Poems, 2001
"Solo" (poems): author Birute Marcinkeviciute, artist Kristina Norvilaite, editor Janina Riskute. Photos by D. Matvejev Vilnius: Strofa, 2001 – 80 pages ISBN 9986-751-47-0.
The third book of poems by the poet and actress. Sensitive and attentive relationship with the world, intimate and respectful approach to the language and word. Meditative poetry, balancing on the verge of silence, seeking an equilibrium between life and death, friendship and loneliness, longing and joy.
Poems from the book "Solo" (translated from Lithuanian to English by Jane Todd, published in USA literature magazine "Wild River Review", 2006, Volume 1- number 3.2)www.wildriverreview.com
…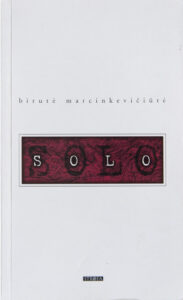 Autobiographical (Lith. Autobiografinis)

to learn a variety of tricks
to wear a dress coat, a wig
deftly change makeup and masks
shoot (from an empty rifle)
handle a sword, a snub (picked from a pocket)
not to forget elocution
and its most simple aspects—
breathing, diction, elegance
form, relation
              (that one day you come to realize
              WHAT is all that? and not only that)                    
to overcome all fears
traumas, illnesses—mania
for fame, depression, anxiety
nightmares, passing love
and without fail—eat and drink in moderation
to train not only body—
but also memory, ear, good taste
one after the other, to read
Nietzsche, Freud, Plato, the classics
("bicycles—invented long ago
but not yet all the road)
to learn deep breathing
so as to fall asleep
not to forget yoga, silence, meditation
healing with sound, dance
to learn a variety—
minuets, waltzes, pas-de-deux
pirouettes, tango, ballet
striptease and more than that
to learn to stand in darkness
to be the last
to learn to wait
(until at last happiness will smile on you—one day
with all eyes on you to rise into a beam of light
and forgetting everything else, to pass across the thinnest rope,
eyes shut tight, becoming lighter, as if scaling
constellations, a string of fate, all of a sudden
having realized WHAT all that is
and not only. . .) 
and so whatever happened
like a virtuoso, step out of it
coquettishly smile
elegantly bow
mysteriously keep silent
appear photogenic, but
look at everything philosophically
(all of a sudden having realized WHAT all that is, all of a sudden
my ears prick up, how better to listen, a quiver
tumbling, it takes flight, my tiny
acrobat—heart)
 . . . 

 from all of my lives (Lith. is visu gyvenimu)

 I remember one autumn
in the memory of that autumn
I peer through a rivery window
in that window
I see an open stretch of road
on that road
I find a footprint
in that footprint
I build a house
in that house
I plant my childhood fern
in that fern
I dream of a shining blossom
on that blossom
I see a fallen drop
in that drop
I recognize an old face
in that face—
I hear my own voice 

 MASKS (Lith. KAUKES)
 I.  All Souls Day.  Old woman's voice at the church gate

no more candles, child
really, none
can't remember the year they were gone without a trace     
I do remember—it was snowing,  fifty years ago
white—that was God's evening in November
but I don't remember candles, without a trace, gone
I will go away
really in darkness
I will sit on the fence
that was painted in summer
oh, my dears—
is it really in darkness
you just say to yourself
someone will pass by
fumbling in the dark, searching for someone dear
as if, God forbid, there is no more moon
fumbling the dark for someone dear
you just say to yourself
the candles, gone, without a trace—
and the old man at the church selling
cheap paintings doesn't sit there anymore
swapping them for sticky-finger sweets
that he would offer to children during holy mass
not anymore—
dead and forgotten
oh, my God
is it possible?  in the dark
will I have to stay 
suffering through that darkness

Solo

No more scenery on the stage
purely light
the light path
just dumb show faces
eyes becoming clearer
dress pitch-black
hands, ascetically empty
silence like a scream
this, that never
about what always
before saying farewell
the curtain falls
you wake up

Instead of an Autobiography (Lith. Vietoj biografijos)

A ROLE, or all the roles—
played once upon a time and forgotten,
the most dear, i.e., the ones that somewhere remain present,
and the ones that somewhere become reverie. . .
A JOURNEY, or all journeys,
satisfied with strange cities,
train tracks, cloud tracks,
crowds of people that travel, too,
hellos and goodbyes, letters, distances,
good times, time. . .
IN SILENCE, or that which remains from all journeys,
voices, faces, the din of everyday. . .
What begins when a white page opens—
silence, remembrance, poem. .  .