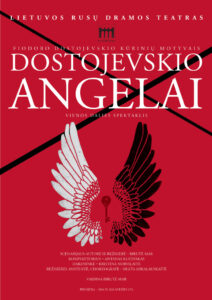 Solo performance based on F. DOSTOYEVSKY'S works
Playwright and Director – BIRUTE MAR
Composer – ANTANAS KUCINSKAS
Scenographer – KRISTINA NORVILAITE
Assistant Director, Choreographer – SIGITA MIKALAUSKAITE
Characters:
NASTENKA ("White Nights")
PRINCE MYSHKIN ("Idiot")
GRUSHENKA ("The Brothers Karamazov")
NIKOLAI STAVROGIN ("Demons")
BOY ("The Beggar Boy at Christ's Christmas Tree")
Performed by BIRUTE MAR
…
The performance is performed in Russian
Duration – 1 hour
Premiere – 11 November, 2015 at the International Festival of Chamber Theatres based on the works of F.Dostoevsky in Staraya Russia (Russia);
2 April, 2016 – at the Small Hall of the Russian Drama Theatre of Lithuania
The performance was created in collaboration with the Russian Drama Theatre of Lithuania.
…
Excerpts from the writer's novels "Idiot", "The Brothers Karamazov", "Demons", the short stories such as "White Nights" and "The Beggar Boy at Christ's Christmas Tree" were selected as the basis for the performance "Dostoevsky's Angels". Different heroes of F. Dostoevsky speak on the stage – Nastenka from "White Nights", Prince Myshkin ("Idiot"), Nikolai Stavrogin ("Demons"), Grushenka ("The Brothers Karamazov") and the little hero from the short story "The Beggar Boy at Christ's Christmas Tree". According to F. Dostoevsky, all the characters created by the writer to resemble us uncover seeds of the great unknown. Only through them do we see the beginnings of truth and wisdom, freedom of conscience and choice, love and faith.
"…God took seeds from different worlds and sowed them on this earth, and His garden grew, and everything came up that could come up, but all growing things live and are alive only through the feeling of their contact with other mysterious worlds. If that feeling grows weak or is destroyed in you, what has grown up in you will die…"
– F. Dostoevsky "The Brothers Karamazov"
BIRUTE MAR:
"Once, during her theatre studies in St. Petersburg, I created a lot of my student works "based on" Dostoevsky – the writer's work became a peculiar chamber for the study of human nature.
It so happens that even after returning to Lithuania, I had to play Dostoevsky's heroines – Polina ("The Gambler", Dir. A. Maksimovas, Russian Drama Theater of Vilnius), Matriosha ("Demons", Dir. J. Vaitkus, Lithuanian National Drama Theatre), Falalei ("The Village of Stepanchikovo", Dir. J. Vaitkus, Lithuanian National Drama Theatre). I often wondered why there are strange characters in almost every work of the writer. Why there are such characters like human angels walking on the ground and living their open-hearted truth?
They say we are all born angels and we forget that later. In the world, a man has to wander for a long time until he discovers his true nature – then that man begins to shine. We must, as it were, separate ourselves from the angel on this earth in order to return to him again. But throughout earthly life there is a longing for something beyond… On this side we are like one-winged angels longing for our "second wing", and that longing helps a man to remain human.
This is probably the most important theme of all F. Dostoevsky's works, the leitmotif of his ingenious work."
FROM THE PRESS REVIEWS
"The performance "Dostoevsky's Angels" from the Lithuanian theatre master is an example of an increasingly rare phenomenon in contemporary art, when theatre transcends its own boundaries and becomes something more than just a simple action on stage. Such a theatre, as in the ancient Greece, allows for catharsis and works in such a way that the spectator (to say "the spectator" would be too small) becomes the co-performer of the performance and experiences something like a spiritual shock, after which nothing is and will be as it was."
Barbara Lekarczyk-Cisek "The Angels of Dostoevsky and Birute Mar", Poland, 2016 http://kulturalneingrediencje.blogspot.com/p/o-teatrze-nie-tylko-recenzje.html
PHOTO GALLERY
AWARDS
Award for Best Actress and Audience Sympathy Prize – 19th International Festival of Chamber Theatres based on F.Dostoevsky's works in Veliky Novgorod and Staraya Russa (Russia, 2015)
Grand Prix at the International Theatre Festival "Druskininkai Summer Theatre Crossing" (Lithuania, 2017)
Award for Best Female Role at the International Theatre Festival "Belaya Veza" (Brest, Belarus, 2017)
INTERNATIONAL FESTIVALS AND TOURS
International Festival of Chamber Theatres based on the Works of F.Dostoevsky in Veliky Novgorod and Staraya Russa (Russia, 2015)
International Solo Performance Festival "Atspindys" ("Reflection", Visaginas, Lithuania, 2016)
International Theatre Festival "Wrostja" (Wroclaw, Poland, 2016)
D.Tamuleviciute's Lithuanian Professional Theatre Festival (Varena, Lithuania, 2016)
State Youth Theater of Minsk – Tour (Belarus, 2016)
International Youth Theatre Festival (Košice, Slovakia, 2017)
International Theatre Festival "Druskininkai Summer Theatre Crossing" (Lithuania, 2017)
International Theatre Festival "Belaya Veza" (Brest, Belarus, 2017)
International Women's Theatre Festival "Maria" (Kiev, Ukraine, 2017)
European Festival of Cultures – Lithuania (Poznan, Poland, 2017)
Days of Solo Performances "T1A" (Lublin, Poland, 2018)
International Theatre Festival "Melpomena Tavriji" (Kherson, Ukraine, 2018)
International Theatre Festival "Vasara" ("Summer", Druskininkai, Lithuania, 2018)
International Solo Performance Festival "Umouno" (Polotsk, Belarus, 2019)
International Theatre Festival "POPOLAM" (Rakvere, Estonia, 2019)