One-act performance based on the diaries of Lithuanian actress UNE BABICKAITE-BAYE (1897-1961)
Author, Director and Actress – BIRUTE MAR
Scenographer – JOLANTA RIMKUTE and DMITRIJUS MATVEJEVAS
Composer – ANTANAS KUCINSKAS
Choreographer – EDITA STUNDYTE
Assistant Director – REGINA GARUOLYTE
Duration: 1h 20 min
A renewed performance at Solo Theatre in 2018 (previously created and shown at the Lithuanian National Drama Theatre)
…
"Une" is a performance based on Birute Mar's own play, inspired by the diaries of actress Une Baye-Babickaite (1897–1961). The play "Une" was among the winners of the Lithuanian Contemporary Drama Festival "Versmės 2009" and was firstly presented at the Lithuanian National Drama Theatre in 2009. Later, the author created a performance based on this play.

The photo collections by the Lithuanian Theatre, Music and Film Museum are displayed in the performance.
BIRUTE MAR:
"Une Babickaite is one of the brightest and most colourful personalities of Lithuanian theatre of the last century, an actress and director who has performed in Hollywood films, New York, Washington and Paris stages.
Her diary which was written in Paris in 1930–1932 simply asked to be staged because Une knew how to look at the environment through the eyes of a playwright, that is with self-irony, passion, humour. She had an extremely beautiful personality and soul. She was quite extravagant as she married her real cousin Vytautas Graiciunas, whom he met in America, and remained happy with him all her life. She especially worshipped and idealized theatre. Unfortunately, Une was not recognized by Lithuanian critics after returning to Lithuania before the war broke out, thus she would not play any roles. Soon everything has shifted even worse… She was deported to Siberia in 1951, her man died in the camp, and later on she spent years of loneliness in Kaunas… But Une remained Une as she organised evenings, read poems, did not lose her sense of humour and inner glow.
In the biography of Une, I found so many parallels with my life! Like me, she studied in St. Petersburg, starred in cinema and theatre. After returning from her studies – before leaving for America – she directed at the State Theatre in Kaunas (I also staged my graduation production "Happy Days" there after studying in St. Petersburg). She was also interested in Eastern culture, travelled a lot, played roles in several languages…
I thought that through the character of Une, it would be possible to reflect on my own theatrical experience, to create a performance about THEATRE and its charming, fragile illusion, and about our passing life, the mirage of being in a performance…"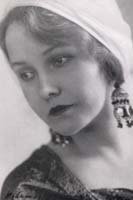 FROM THE PRESS REVIEWS
"Around you can see commercial bubbles one after another bursting like cultural experiments as first-time baits that do not get old. If you don't interbreed your dog with a cat in a performance by force before remembering to rejoice how fun it is for them to collaborate creatively, what will intrigue the curious audience? Culturally, we live in the "catdog" era which proclaims cats and dogs as naphthalene relics and generously allows them to end their days in the retro zone. However, this zone becomes a real area of refreshment for those who have been tired from the beginning. "Une" by Birute Mar is from that lovely area that does not promise any miracles and is considered marginal."
Renata Baltrusaityte "From the Diaries of a Forgotten Actress" (2010, magazine "Veidas", Lithuania)
..
"There is a unique phenomenon in the Lithuanian theatrical and cultural life and it is called Solo Theatre. Basically, it is a theatre of the actress, Birute Mar, who creates solo-performances and directs herself.
The performance "Une" allowed me to be convinced of its creative vitality: with this concept I try to embrace the various colours of Birute Mar as an actress and self-director, obviously visible and deep: the richness of emotional palette, the combination of physical and spiritual fragility with also spiritual strength; erudition, fantasy, empathy, and probably a life wisdom…"
Astrida Petraityte "UNE by Birute Mar" ("Draugas", USA, 2019)
PHOTO GALLERY
AWARDS
Audience Prize at the National Dramaturgy Festival "Versmės" (Lithuania, 2010)
Best Actress Award and Audience Award at the International Solo Performance Festival "Atspindys" (Reflection") in Visaginas (Lithuania, 2010)
Prize "For the Most Successful Theatrical Experiment" at the 1st Dalia Tamuleviciute's Lithuanian Theater Festival in Varena (Lithuania, 2010)
Grand Prix at the International Solo Performance Festival "Zvaigzdne" in Riga (Latvia, 2011)
Grand Prix at the International Theatre Festival "Druskininku vasaros teatro sankryza"/"Druskininkai Summer Theatre Crossing" (Lithuania, 2020)
INTERNATIONAL FESTIVALS, TOURS
Thespis International Solo Performance Festival in Kiel (Germany, 2010)
International Solo Performance Festival "Atspindys" in Visaginas (Lithuania, 2010)
D. Tamuleviciute's Lithuanian Theater Festival in Varena (Lithuania, 2010)
Armmono International Solo Performance Festival in Yerevan (Armenia, 2011)
International Solo Performance Festival "Solo" in Moscow (Russia, 2011)
International Solo Performance Festival "Zvaigzdne" in Riga (Latvia, 2011 and 2012)
"Spotkania Teatrow Jednego Aktora" – International Theatre Festival in Wroclaw (Poland, 2011)
International Baltic Theatre Festival in Tartu (Estonia, 2013)
Lithuanian Professional Theatre Festival "Art Do" in Kupiskis (Lithuania, 2016)
International Women's Theatre Festival "Maria" dedicated to Ukrainian actress M. Zankovetska (Ukraine, 2016)
International Theatre Festival "Druskininku vasaros teatro sankryza"/"Druskininkai Summer Theatre Crossing" (Lithuania, 2020)